Leeds City Museum is housed in the grand and historic Leeds Institute building, on the edge of Millennium Square. The museum exhibits span local history, ancient civilisations, and the natural world. It also has as a diverse programme of engaging temporary exhibitions.
As part of the wider Leeds Museum and Galleries group rebrand, we were challenged to produce a new identity for Leeds City Museum. The brief was two fold: 1. to position the Museum as a fresh, fun, welcoming, inspiring and inclusive visitor attraction; and 2. promote the standing of the museum as a nationally important collection and centre of learning.
With two opposing goals, we decided that the identity needed to have contrast and versatility.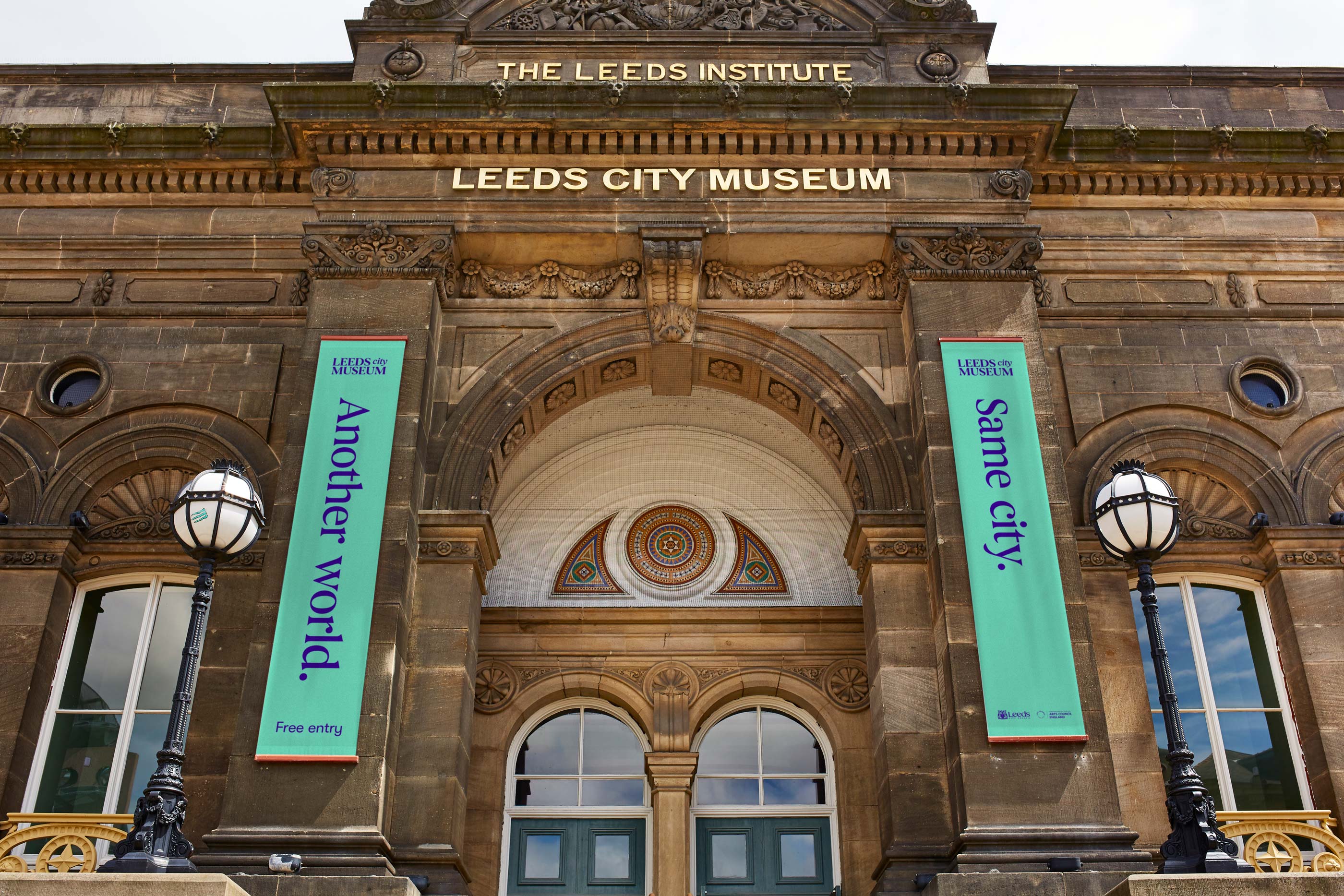 Same city, another world.
How could we create contrast? We combined a traditional serifed logotype and headline typeface, with a confident and bold behaviour in application. While the typography feels established and prestigious, the accompanying tone of voice has an assurance unlike many comparable museums. This is demonstrated by the tagline 'Same city, another world'. A colour palette of energetic bright colours alongside more muted tones, also gives the brand an air of confidence — whether welcoming visitors or collaborating with other national organisations.
Welcoming the new brand
To coincide with the launch of the new brand, we were asked to design a temporary exhibition. 'A city and its welcome' shared the stories and experiences of immigrants who have made Leeds their home over the past 250 years.
We worked with Leeds City Museum to create a celebratory exhibition look and feel that utilised the new brand guidelines. The additional decorative graphics that we created, represented the different cultures that help to make the thriving, diverse city that Leeds is today.